Is two years a long, long time? Okay, I guess it's not really. But it sure does feel like it! That's how long it's been since I got my very first Beco carrier. Grab a snack, sit back, and enjoy a little story time...
I don't remember what first got me interested in Becos. I'm sure it was from browsing around The BabyWearer forums, looking at different types of carriers. And probably because they are so gorgeous! I'm sure I didn't have a lot of money at the time (who does?) so I started looking at other ways to get one. Anyone remember
Revolution Money Exchange
? It was a PayPal alternative that (I think) was just starting up. If you signed up, you got $25 RME dollars! It didn't take people long to start signing up everyone they knew to get the money. So I think I enrolled myself, my husband, my sister, her friend, and maybe my mom? I can't remember.
At any rate, the funds for a new Beco added up fast! Then I just needed to find a place that would accept this new currency. There were several online retailers that took it, and
PaxBaby
was the store I chose, because they had a fabric that I loved. I was so excited that I started emailing Jillian and asking about getting a Beco. She was SO helpful and patient. We even talked on the phone to make sure I was getting what I wanted. She also sent me pictures of the two Ava's she had in stock so I could pick which cut of fabric I liked best. What a doll!
My daughter was about one year and one month when my Beco came on March 31, 2008. I remember sitting in our study watching the mail man drop off our mail and drive away. I was SO upset! I really thought my Beco would be here that day! As he drove away I actually walked out to get the other mail and yelled at him! To my surprise, her turned around in the cul-de-sac and brought me a package- my Ava Beco Butterfly Original!
I was estatic! The first picture I took was with my husband's cell phone because I didn't have my camera.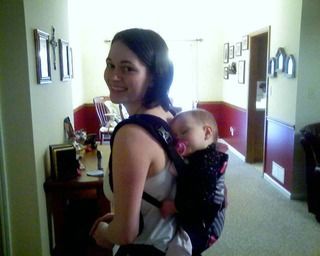 Then I posted this on TBW the next day (<---more pics are in that link):
It came yesterday and I didn't have my camera. I've worn it for about an hour in Walmart (front and back- it's so easy to switch!) and for less time at home.
I really love it. I made these videos for some friends, so they might seem a little silly. But I wanted to share with ya'll, too. Enjoy!
Oh, and it's Ava that I got from Jillian at www.Paxbaby.com. She is wonderful!
So that's my story! Little did I know what that one wonderful carrier would do to change my life! :)
Now share your story below! And don't forget to enter the
contest for a new Gemini
!